Managed IT Services Northamptonshire
Your business's IT should empower growth and scale alongside your company to help you to continue succeeding. This can be hard to achieve as every organisation has different IT needs and requirements. IT managed services shouldn't be a one size fits all approach, the right outsourced company will tailor their support to help you achieve your business goals.
With Bluebell's managed IT services in Northamptonshire, you can transform how your organisation can operate. Instead of slowing down your operations, speed them up. Prevent small issues building up, deal with them instantly before they escalate. Ensure your team has the necessary tools to communicate and collaborate to improve your business's efficiency.
IT Managed Services Northamptonshire
Businesses often lack the technical expertise and knowledge to deliver effective IT in-house. Outsourcing your IT managed services in Northamptonshire ensures you have the capabilities to deal with cybersecurity threats, improve performance, and work remotely. 
Remove the stress of managing your business's IT and work with a service provider that can transform your operations. Having one provider for all your IT requirements comes with the benefits of having everything under one monthly invoice, this means any issues can be resolved efficiently. 
An organisation will struggle to function without an effective IT strategy. Creating a bespoke plan focused on achieving your business's goals and enhancing day-to-day performance is challenging when you have to contend with the demands of running your business. For example, if you are using Windows 7, this is no longer supported by Microsoft meaning you're leaving your business open to cyber attacks and reducing the efficiency of your devices. Working with a local IT company, like Bluebell IT Solutions, in Northamptonshire is a time-efficient and cost-effective way to do this and improve your organisation's IT infrastructure.
IT Consultancy Northamptonshire
IT consultancy for your company in Northamptonshire is the ideal way to improve your IT infrastructure. Aging IT systems, recurring IT issues, and a framework that hinders your business's objectives, all mean that your IT infrastructure isn't fit for purpose. Working with an IT consultancy company ensures they can optimise your business's IT infrastructure.
At Bluebell, as part of our IT consultancy in Northamptonshire, we can set up an infrastructure tailored to your business. Our team can advise you on the best approaches to ensure your IT is running efficiently and securely. Avoid unplanned downtime, data losses, and potential security breaches caused by outdated software. Before making major changes to your company's IT, consult with experts like Bluebell to ensure they benefit your business.
You know your IT isn't working how you want it to. It can be tricky to know exactly what in your IT needs to be changed or improved. By booking a Free IT Health Check with us we will assess your environment, and give you expert, detailed advice on the best way to improve your IT infrastructure.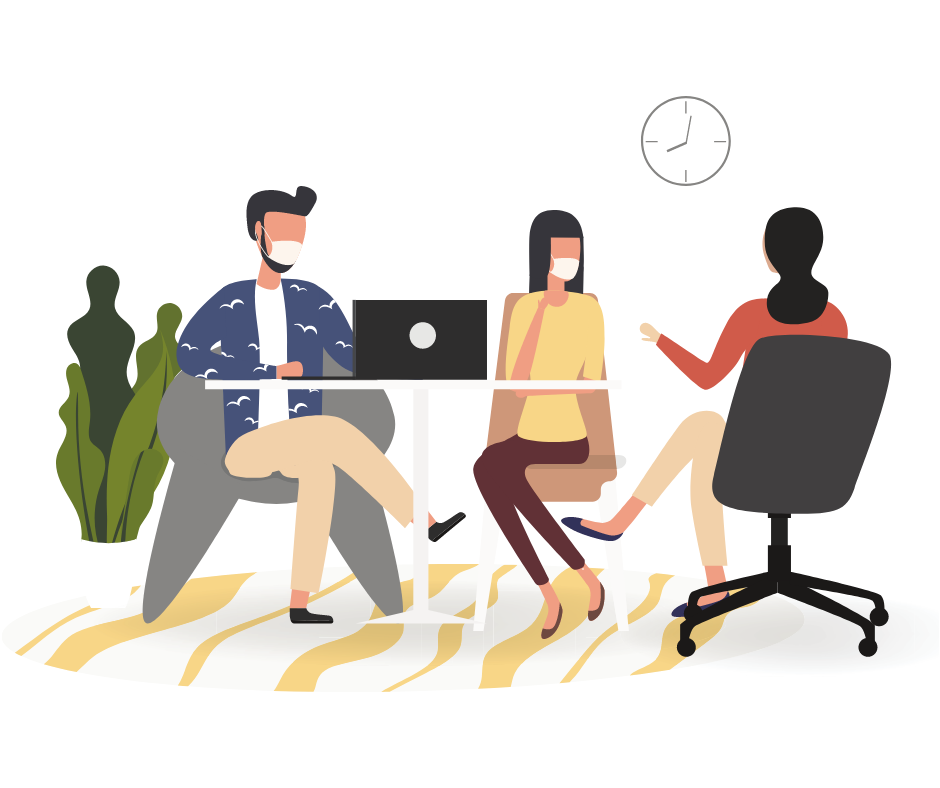 IT Support Northamptonshire
A lack of IT expertise can cause many issues for companies. When a problem occurs with IT systems it causes downtime, data losses, and impact productivity leading to a loss in time and profits, approximately businesses lose £2,752 a year due to outdated IT systems. Working with Bluebell's IT support in Northamptonshire ensures you have expert technical IT engineers available when you need them.
Having IT support available 24/7, allows you to focus on running the day-to-day operations of your business with peace of mind. If an IT issue occurs, staff can contact Bluebell and resolve the problem before it escalates and damages your business. For a fixed monthly cost, your staff has access to remote and on-site IT support in Northamptonshire at all times. Our proactive monitoring service also catches issues before they affect your business.
Cyber Security Northamptonshire
At Bluebell, our cyber security services protect your business's mission-critical IT systems. Avoid costly data losses that can result from cyberattacks by safeguarding your business with cyber security protections. To identify potential threats, our expert team will conduct a cybersecurity health check. From there, our team addresses the discovered gaps in your IT infrastructure to minimise the potential cyber security risks your business faces.
Cyber Essentials is a government-backed certification awarded to companies that follow the core principles of the cyber essentials scheme. These core principles showcase how certified companies mitigate against 80% of the most common and damaging cyberattacks. To become cyber essentials certified, companies must carry out a self-assessment and demonstrate they can protect against malware, phishing attacks, and DDoS attacks, for example. 
The Cyber Essentials Plus certification is one step above Cyber Essentials. It requires an auditor to come to your business and assess whether your business has taken steps to secure itself from cyber-attacks. At Bluebell, we're Cyber Essentials Plus accredited showing we're dedicated to the cyber security of all our clients. 
If you're interested in gaining a Cyber Essentials certifications in Northamptonshire, we are available to assist your business through the process. Our team makes suggestions on how to improve your cyber security so you are ready to pass your assessment. By working with our IT managed services in Northamptonshire, you reduce the risk of data losses, downtime, and cyber-attacks impacting your business.